ANIMUSZ 1
ANIMUSZ 1
A special composition of ethyl esters NNKT Omega-3 and Omega-6 with addition of vitamin A,D3,E.
Animusz 1, a complementary compound feed of the TRACZER SUPPLEMENTS series, is a product in the form of ethyl esters of the necessary saturated fatty acids produced by Skotan S.A., with increased content of oils of evening primrose, black currant and borage which are rich in the valuable gamma lanolin acid (GLA). The product is enriched by addition of A, D4, E vitamins.
Esters were created as a result of a unique production technology of homogeneous mixtures of vegetable oils with a 100% content of fatty acids
Omega-3/-6/-9 in the form of favourable CIS isomers. Such a conformation ester structure has impact on their biological activity and high bioaccessibility. They are characterised by no toxicity and immediate absorption at the cellular level.
The feed mixture supplementing Animusz 1 supports the treatment of atopic skin inflammations, dermatosis, especially of allergic background which cause pruritus and skin lesions. It has anti-inflammatory effect. High absorption rate of this product and perfect proportion of Omega-3 to Omega-6 fatty acids have been supported with the addition of fat soluble vitamins A, D3 and E which have a simulative effect on the dermis cells, improve its elasticity and nourish it. Thanks to strong anti-oxidant values they ensure the protection of the lipid layer of the epidermis from oxidation and destruction.
The Animusz 1 preparation is a guarantee of healthy skin and hair.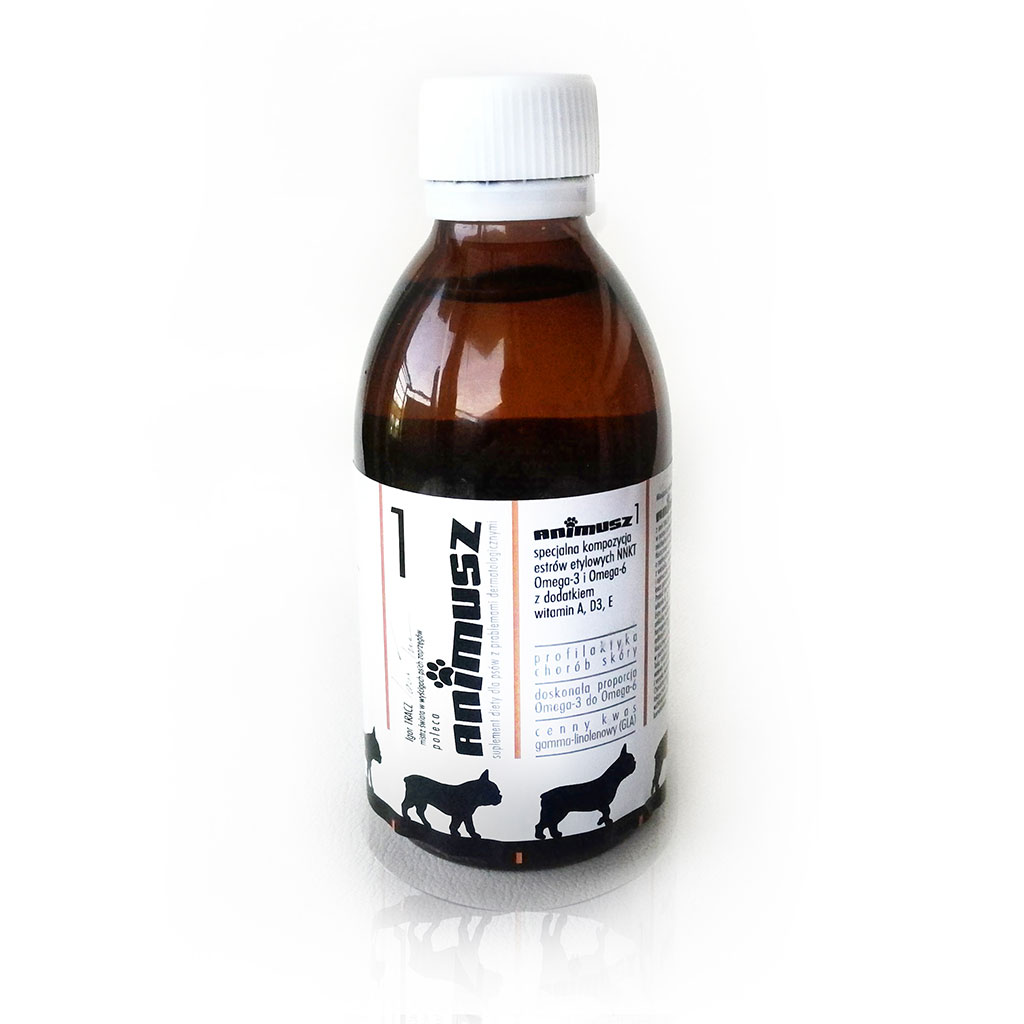 Ingredients:
Feed material: 100% ethyl esters of higher fatty acids of high content of the necessary unsaturated fatty acids Omega-3, Omega-6 and Omega-9.
Dietary supplements: Vitamin A(3a700), Vitamin D3 (E671) , Vitamin E (3a672b)
Dosing:
0,3 ml / kg body weight / day
Package volume:
200 ml
Contents of nutritious substances:
| | |
| --- | --- |
| Nutritious substance | Content in 10 ml |
| Omega 3 – alpha-linolenic acid in the form of ethyl ester | 4,3 g* |
| Omega 6 – alpha-linolenic acid in the form of ethyl ester | 2,7 g* |
| Omega 9 – alpha-linolenic acid in the form of ethyl ester | 2,3 g * |
| Vitamin A | 2 000 IU* |
| Vitamin D3 | 200 IU* |
| Vitamin E (alfa-tocopherol) | 3,02 mg* |
* the contents of nutritious substances may range within +/- 10%.
This product is of natural origin, does not contain any preservatives, pollutants or toxic substances, free from banned substances.
Contact form